The Brides Guide to Bridesmaids
Planning your wedding can be a stressful time and it's no doubt you'll need help and support from your bridesmaids. It's important your relationships stay strong and drama free leading up to the celebration. Learn how to organize your bridesmaids, keep them happy, and most importantly enjoy the wonderful celebration with everyone on your wedding day.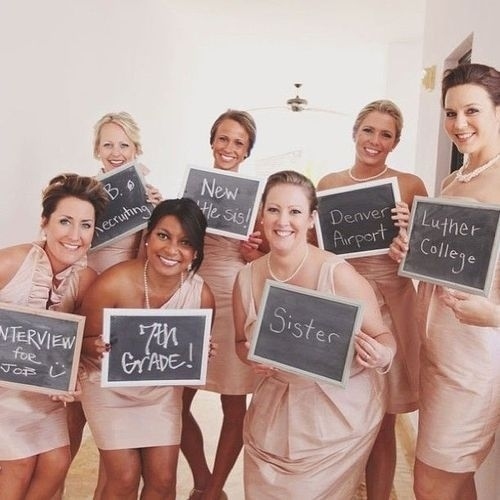 How Many Bridesmaids is too Many? 
If the altar only fits a handful of people, you'll have to limit your number of bridesmaids. The first rule in determining how many bridesmaids are right for you is to coordinate the size of your wedding party with the size of your wedding venue. Of course, the final decision rests with you, but remember that the larger the number, the more difficult it may be for you to manage.
"Popping the Question" 
They've been with you through thick and thin and now you're ready to make it official, with your bridesmaids that is! Your bridesmaids, especially your maid-of-honor, will be crucial to you throughout your wedding planning process and the day of, so make sure you ask them in a way that shows how grateful you would be if they were to be a part of your wedding party. Take a look at some creative ideas to pop the question to your bridesmaids-to-be.
Selecting the Perfect Bridesmaids Dress 
Do you have a super-specific vision for the bridesmaid dresses? Ask your bridesmaids for their input and remember to be open to letting them wear styles that will fit their body types. It's important that everyone is happy with the overall look, after all the cost of a bridesmaids dress can add up quickly. Remember, they will only probably ever wear this dress once.
Realize They Have a Life Outside of Your Wedding 
Your bridesmaids are the perfect people to turn to when you are stressed or frazzled from the details of planning. However, they are your friends first and foremost, so remember they have a life outside of your wedding. Make a conscious effort to ask your girls about what's going on in their lives. Plain and simple, be a good friend.
Make Them Feel Special 
Your bridesmaids are likely putting time, effort and money into your wedding, and chances are, they've been looking forward to it as much as you have. Make them feel more like your VIPs on the big day. So say "Thank You!" You don't have to spend a fortune on bridesmaid gifts to show how grateful you are. Just make them meaningful and remember to write something nice in the card.
 At SVCC we aim to help you create your dream wedding in any way that we can, to learn more about the services and spaces that we offer, call us at (905)-847-6477 or contact us and our staff will be happy to answer any questions you may have.
—————————————————————————————————
Like this? You might also like: