Save the Date Etiquette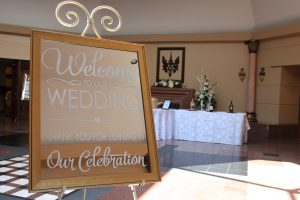 You've got a shiny new ring and your excited to spread the good news about your wedding day! While it is still early on in the planning stage, you should start thinking about notifying your future guests about the special date.  We've complied a list of common questions about save-the-dates and what you need to know.
Is a save-the-date necessary to send?
Yes – this pre-invitation officially announces your wedding date and lets guests know that they will, in fact, be invited to the celebration. Of course, you don't have to send one if you don't want to, but it will give guests a heads up about your wedding plans and make things easier for everyone when planning for the busy months ahead.
How early should we send out a save-the-date?
As a rule of thumb, it is best to start spreading the news around six months prior to the ceremony (eight months for a faraway destination or holiday weekend).  The earlier you can notify guests that they are going to be invited to a wedding, the better. That gives them all the more opportunity to book the time off work, confirm hotel reservations and make travel arrangements.
Can we send a digital save the date?
Although email invitations are becoming more popular for events like bachelorettes parties and post-wedding brunches, we recommend sticking to the tradition of snail-mail for your save-the-date.  Traditional paper not only makes a nice keepsake for family and friends, it creates a unique sense of occasion, providing both a personal and classy touch.
What do we include in our save-the-date?
The save-the-date should include the couple's names, wedding date (or dates, for a wedding weekend), location (a city is helpful) and a notice for a formal invitation to follow.
What if we haven't picked a venue yet?
OK so you may not know the exact venue yet, but try to decide on a destination and include this on your save the date cards, especially if it's going to be abroad.
Does our save-the-date have to match our wedding theme?
Your save the date doesn't have to exactly match the colour scheme or wedding theme you're having – who knows what that will be at this early stage, anyway! Just make it personal to you and your significant other and your guests will never forget!
Now that you have your save-the-date in order, it's time to start planning other aspects of you wedding day. Here are some articles that will help you get started: