Ukrainian Easter Traditions: The Origin of Pysanka
Ukrainian Easter is right around the corner, how familiar are you with the traditions?  One of Ukraine's most famous Easter traditions is the psyanka, an intricately decorated Easter egg. The name derives from the Ukrainian verb "pysaty," meaning "to write."  ("Pysanka" is the singular form; "pysanky" is plural.)
The origin of the psyanka dates back over ten centuries and is associated with pagan rituals and superstitions. The psyanka symbolizes the release of the earth from the shackles of winter into spring. The egg brings a promise of new hope, new life, health and prosperity. While the symbols have remained through the ages, their interpretation has changed, in an act of religious syncretism.
In 988 AD when Ukraine accepted Christianity, the decorating of eggs took on a deep religious meaning. The pysanka commemorated the Resurrection of Christ, and a promise of eternal life. The pagan superstitions were replaced by religious beliefs and legends.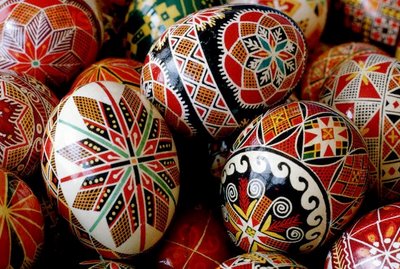 The richly decorated eggs are never eaten. They are kept in the home from year to year as decorations and as protection from evil, fire and lightning. Friends exchange pysanky that have been blessed on Easter morning to represent the gift of life and to commemorate Christ's teachings of peace and love.
Creating pysanka is an extremely complicated endeavor and they are usually created during the last week of Lent. The smoothest and best-shaped eggs are used to make pysanka. A stylus is often used to ensure and perfect the clean lines and intricate patterns on the eggs. Pysanka are given to friends and are usually decorated to match the personality of the receiver. To learn more about how the eggs are made, click here.
Recently, the Royal Canadian Mint has issued a Ukrainian psyanka egg-shaped coin. According to Unian news, the egg-shaped coined is designed by Canadian artist Ann Morash. "This coin captures the intricate beauty of a pysanka. Every element on this Ukrainian Easter egg is rich with symbolic meaning, including the individual colors: yellow stands for youth and purity; red represents the joy and passion in life; green is the color of spring, which brings hope and renewal; and black suggests the darkest time before dawn, and the idea of eternity."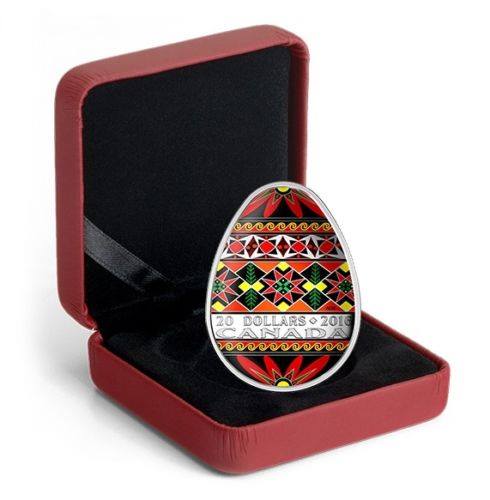 The psyanka egg-shaped coin is a fantastic tribute to Ukrainian folk art, Easter traditions and spring! What do you think about the psyanka traditions and the new coin? Share with us on Facebook.