6 Impossibly Fun Wedding Ideas
You've been perfecting your Pinterest board for weeks now, but isn't it all starting to look the same? You want your wedding to stand out and for your guests to have a great time, but what can really make your wedding different from all the others? We've created a cheat sheet of 6 ideas that are sure to make your wedding the most memorable (AND fun) day of your life!
Song Requests When RSVP'ing
We've all been there. A lackluster DJ playing the few fun songs right at the beginning of the night and then playing whatever he wants, or worse – his own mixes. A fantastic to way to make sure everyone is moving and grooving for the entire night is to let people requests songs. Nothing can spark your mood like hearing your favourite song come through the speakers! It's the perfect way to ensure everyone gets to hear a song they like and will keep the dance floor lively all night. Nothing makes a wedding like a happenin' dance floor!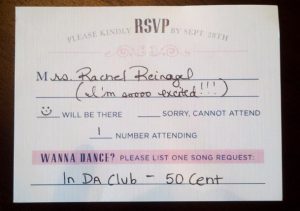 Polaroid Guestbook
Guestbooks are a nice reminder of all the people you love who attended your special day. What better way to spice up your guestbook by adding Polaroids? Instead of merely having guests sign their name along with some kind words, have the person manning the guestbook take a quick snapshot of the signee to place beside it. In a few years it will be so fun to look back and see how your friends and loved ones have changed!
Picnic Style wedding
Uncomfortable folding chairs at an outdoor wedding can be the absolute worst. On a hot day, your legs stick to the seat, and they're downright uncomfortable for a long ceremony! A fun alternative is to have a picnic style wedding! Provide your guests with blankets and even pillows to ensure a comfortable ceremony. While you're at it, adding a few hand-fans, if you know your wedding day is supposed to be especially hot, isn't a bad idea either! A picnic style wedding is a fun alternative to the norm and can actually end up being more comfortable for guests!
Customized Converse
On your wedding day you want to look your best, and that means not compromising style. You're going to get those 6 inch, must-have heels for your special day and why shouldn't you? However, by the time the reception rolls around it's likely that those must-have heels will be killing your feet. A cute way to kick up your heels at the reception is customized Converse! You can get your married name stitched onto the heel. Get a pair in white for yourself and black for your husband-to-be. This way, you'll be able to dance the night away without the painful blisters.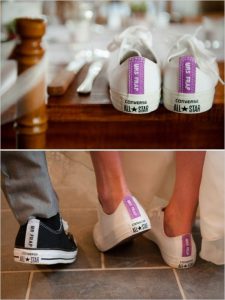 Flip Cup
Just because you're married doesn't mean you're getting old. At least, not too old to engage in some of your favourite college-era drinking games! After the dinner has finished and things start to liven up, set up a folding table, grab some plastic cups and start a good old-fashioned game of beer pong or flip cup! Encourage everyone to play, as there's no reason you can't play with some soda if others don't want to use beer.
Kids Table Crayons
It's hard to keep kids entertained and happy for a full day of wedding events. One way to make sure all of the kids are happy and occupied is to supply some crayons, paper, or even dollar store colouring books on the table. This is inexpensive and will likely result in all having a good time with minimal crankiness!
Do you have any Pinterest-worthy ways to liven up a wedding? We'd love to hear them! Share them with us on our Facebook page! Let us know if you're interested in SVCC making your wedding the best day of your life.