10 Interesting Places to Visit Across Ukraine

Big, diverse, and largely undiscovered, Ukraine is a country that offers plenty to its visitors. With marvelous and varied landscapes there is lots to see and do across the nation. We have compiled a list of ten must-see attractions across Ukraine.
Carpathian Landscapes
The Carpathian Mountains are considered to be the Green Pearl of Ukraine. They are home to Ukraine's highest peak, Mt Hoverla, a prime hiking, biking and skiing territory. A beautiful mix of forests, meadows, stumbling mountain peaks and incredibly real culture of local highlanders is what makes the mountains so attractive to tourists!
The picturesque private railway line located in Klevan, Rivnens'ka oblastis popular with couples from Ukraine and beyond as the perfect place for a romantic walk. The story behind its construction is what makes the tunnel of love a must-see attraction. According to local legend, the railway line was built by a man who was looking for a shortest path to visit his beloved.
Oleshkivski Sands
The Oleshkivski Sands is a largest expanse of sand in Ukraine, located in southern Kherson Oblast. The desert features crescent-shaped dunes that rises up to five meters high, covering an area of 161,200 hectares.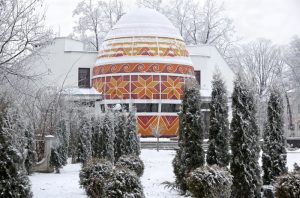 Kolomyya (Museum of pysankas)
Kolomyya, a city of 60,000 people in Ivano-Frankivska Oblast of western Ukraine, is home to Ukraine's largest museum of pysankas, housed in a giant Easter egg. The museum's collection includes more than 6,000 unique pysankas collected from various regions of Ukraine.
Kyevo-Pecherska Lavra, Kyiv
Founded as a cave monastery in 1051, the lavra is filled with golden-domed churches, baroque buildings and orchards. Religious ceremonies take place in lavishly decorated, icon-filled interiors, accompanied by beautiful choir singing and attended by crowds of pilgrims and monks.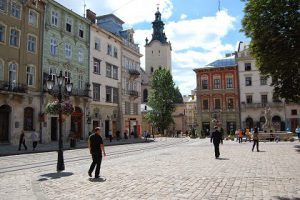 Lviv's Ploshcha Rynok      
Rynok Square is a central square of the city of Lviv, Ukraine. With its stunning palaces, fountains, statues, crowds, and cafés, Rynok Square is the heart of Lviv. Take time to stroll around, there is more than the eye can see.
Dolyna Nartsysiv (The Valley of Daffodils)
If you just so happen to be visiting Ukraine mid-May, you must experience this unique natural phenomenon. The Valley of the daffodils bloom in a unique reserve located 4 km from the Carpathian town Hust. More than 400 species of daffodils grow in the valley.
Sophi
a Park in Uman
Sofiyivsky Park is a place filled with tales of romance and legends which one can imagine unfolding amongst the rocks and alleys of this picturesque park. Sofia Pototsky was a legendary beauty, and Uman's stunning park is her husband Count Felix's monument to her physical perfection.
Ukraine's Amazing Bazaars         
Visit one of many colourful markets across Ukraine to source seasonal fruit, delicious vegetables, beautiful vsyvankas, art and many other hand crafted goods. Towns large and small have sprawling markets, but the biggest and best can be found in Odesa, Kharkiv, Kyiv, Poltava and Chernivtsi.
What's you favourite hidden treasure in Ukraine? Share with us on our Facebook page!