Traditional Ukrainian Christmas Dishes You Will Love
Following the Eastern Orthodox Calendar, Ukrainian Christmas is celebrated on January 7th. Although, typically, the entire week (January 6th – 14th) is a festive celebration whereby many Ukrainians come together, dress up, sing Christmas songs (Kolyadka) and wish each other blessings.
Of course, one of the best parts about the entire festive week is all the delicious food. That's why we have selected a few of our favourite traditional Christmas dishes that you can't go without this year.
Kutia
Kutia is a delicious favourite for the holiday season, and it is always served as the first of the twelve traditional meatless dishes during Christmas Eve. See the recipe below pulled from Claudia's Cookbook.
Ingredients
2 cups cooked wheat
6 tablespoons ground poppy seeds
1/4 cup honey
1/4 cup roughly chopped pecans
3/4 cup hot water
Instructions
To cook the wheat, dry wheat in 205-Fahrenheit oven for 1 hour, stir occasionally. Wash, soak in cold water overnight. Next morning, bring wheat to boiling point, simmer 3-4 hours, until kernels burst open.
To prepare the poppy seeds, scald poppy seed, simmer 3-5 minutes. Drain, grind twice using the finest blade of food chopper.
Add ground poppy seeds to wheat.
Combine honey and hot water. Add to wheat.
Add your roughly chopped pecans.
Serve and enjoy!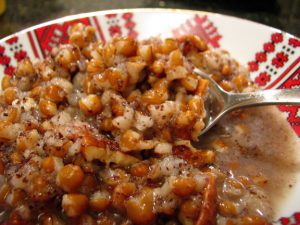 Vushka Little Ear Dumplings For Borsch
Vuska are similar to tiny varenyky but they are filled with mushrooms. Vuska have their two corners joined together giving them the resemblance of tiny ears. Vushka are typically served with clear borshch on Christmas Eve. All dishes should be meatless on Christmas Eve.
Ingredients
2 cups flour
1 teaspoon salt
1 egg yolk
1/2 cup evaporated milk or whole milk
1 teaspoon oil or melted butter
Instructions
Combine flour and salt. Add milk, egg yolk, and oil, and mix. Allow to rest for 5 minutes. Knead for 5 minutes and form into a ball. This may be done in a processor. Cover and set aside for 15 minutes or so.
On a floured surface, roll out a third of the dough into a rectangle 1/8 inch thick. Turn dough and roll from center, so that all dough is even in thickness. Run a hand under dough to loosen it. Dust with flour, flip over, flour again. With a sharp knife, cut into 1-1/2 inch squares.
Place a teaspoon of mushroom filling in each square, being careful not to smear edges. Fold diagonally to make a triangle and press edges. Pinch together the two bottom corners. Make sure dough has bonded, or the stuffing will boil out. Place on cookie sheets covered with towels dusted with flour. Roll out scraps last, as this dough is a little tougher.
Drop 10 or 12 vushka into 6-8 cups of rapidly boiling water and stir once with a wooden spoon. Do not cover. When they float to the top, cook 1 minute, then remove with a slotted spoon to a strainer. Cool on a lightly oiled plate without crowding. Repeat until all are cooked. Cover and set aside. These may be frozen and then reheated in boiling water. Do not overcook when reheating.
To serve, place 4 or 5 vushka in soup bowls and pour hot borsch over them.
Find the original recipe and instructions for the mushroom filling here.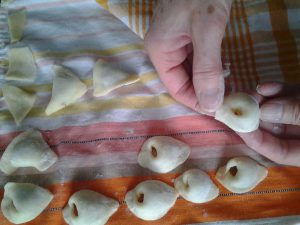 Pampushky – Ukrainian Christmas Doughnuts
Pampushky are Ukrainian style doughnuts that are traditionally filled with either poppy seeds, prunes or fruit preserves. They are the perfect dessert for Christmas Eve!
Ingredients
2 packages dry yeast (2 Tablespoons)
1/2 cup lukewarm water
1 Tablespoon sugar
2/3 cup milk
1/4 cup sweet butter
1 teaspoon salt
1/3 cup sugar
2 whole eggs, beaten
3 egg yolks
1 teaspoon vanilla
Grated rind of 1 lemon
4 to 5 cups all purpose flour, as needed
Shortening or oil for deep frying
Extra fine granulated sugar
Cinnamon
Instructions
Sprinkle yeast into warm water, add 1 tablespoon sugar, cover lightly and set aside in a warm place for 5 to 10 minutes, or until mixture. Scald milk and stir in butter, salt and sugar. When butter melts, cool milk to lukewarm. Combine with beaten eggs and yolks and yeast mixture, vanilla and lemon rind. Gradually beat in enough flour to make a medium firm dough that is still pliable. Knead until smooth and elastic—about 10 minutes. Place dough in a floured bowl, dust with flour and set to rise in a draft free corner until double in bulk—about 1 1/2 hours. Punch dough down and let it rise again until doubled.
Turn dough onto a floured board and roll out to 1/2 inch thickness. Cut into circles with a 3-inch round cookie cutter. Place a teaspoonful of filling on half of the circles. Top with unfilled circles and pinch edges closed, using a little cold water to seal them. Let rise, uncovered, on floured board until doubled in bulk.
Fry a few at a time in lard heated to 375 F. Turn once so both sides become golden brown. Allow about 6 minutes for frying each batch. Drain on paper towel and sprinkle with sugar and cinnamon. Makes about 2 dozen doughnuts.
To learn how to make poppy seed filling find the original recipe here.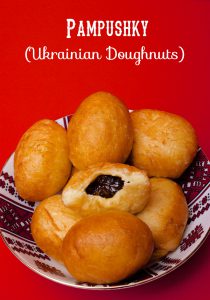 What's your favourite Ukrainian Christmas dish? Share with us on Facebook!