Three Ukrainian Holiday Traditions You Will Love
Ukrainians love to celebrate holidays, from "mooing" under the dinner table to celebrating two New Years – meet three unique Ukrainian holiday traditions that still live on – and can be participated in – at hundreds of Ukrainian villages.
1) Celebrate Ukrainian Christmas on January 7th
Christmas is known to be many Ukrainians' favourite holiday. Most Ukrainians belong to the Eastern Orthodox rite of Christianity, and therefore follow the Julian calendar. This means all holidays in Ukraine typically lag 13 days behind the Gregorian calendar, giving you an amazing opportunity to celebrate Christmas twice!
When celebrating Ukrainian Christmas, don't expect to see Santa Claus, red-nose reindeers, or hanging stockings. Rather than commercializing the holiday, Christmas in Ukraine centers on the celebrations around the figure of Jesus Christ. You can expect to find many decorations of mangers, carolers singing about religious stories, and every part of the Christmas supper is tied back to the birth of Jesus and his apostles. Even the daily greetings change, instead of saying "goodbyes" and "hellos," Ukrainians greet with "Christ is born," and respond with "Glorify him."
2) Moo under the Christmas Dinner table
Ukrainian Christmas dinner is filled with many folk traditions. Don't expect to find a Christmas tree or presents, typically the main decoration of the house is "didukh," made from a sheaf of wheat that means "the spirit of ancestors" and represents the household's wish for an abundance of nature and a bountiful harvest for the upcoming year. Christmas Dinner is usually comprised of 12 vegan dishes to represent the 12 apostles.Before anyone starts to eat, the eldest family member recites a prayer as everyone stands at their place setting followed by a carol joined in by everyone.
Alongside caroling, you will always find dress-up Ukrainians participating in make-shift Christmas plays. If you are wandering the streets of Lviv on January 7th, you are bound to meet the Devil, the Death, the three Kings and Mary herself. If you are lucky to join the Christmas Dinner table with a Ukrainian family, don't be alarmed if you hear mooing, wailing and barking from under the table. Children as simply trying to bring in the good harvest and rich herds of animals!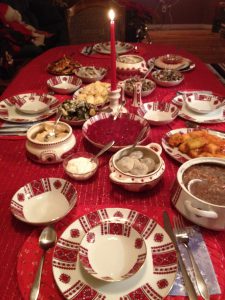 3) Dress up for your second New Year celebration – Malanka (January 14th)
Ukrainians love to celebrate so much that we even have two New Year Eves! The first New Year celebration follows the Gregorian calenadar and falls on January 1st when we celebrate with the rest of the world. However, the second one follows the Julian calendar and falls on January 14th, when we celebrate the "old new year."
Malanka is a Ukrainian folk holiday that commemorates the feast day of St. Melania. In Ukraine, the tradition varies from city to city, often people gather and go house-to-house playing pranks or acting out small plays.
Malanka is rich in ancient ritual, folklore, and magic. The ancestors of Ukrainians believed that on New Year's Eve, good and evil spirits descended on the earth. In order to ward of evil before the new year, the night was spent dancing, partaking in ritualistic meals, fortune telling, casting of spells, and singing carols of well wishes.
The winter festival of Malanka is known to cap the festivities of Ukrainian Christmas holidays, and is often the last opportunity for celebrating before the solemn period of Lent.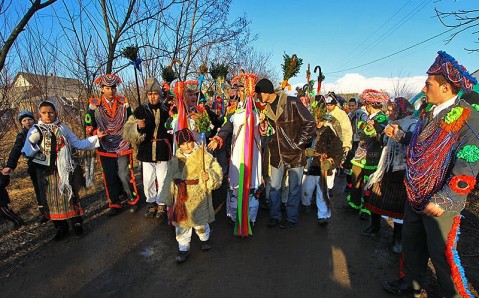 What's your favourite Holiday tradition? Share with us on Facebook.