3 Delicious Ukrainian Recipes
Bring a little taste of Ukraine into your home this New Year with these 3 delicious Ukrainian recipes!
Walnut Torte
The best way to end any meal is with a delicious and decadent dessert. What sounds better than a walnut torte with mocha frosting?! Though the mocha frosting may not be technically Ukrainian, it's a fresh take on a yummy classic.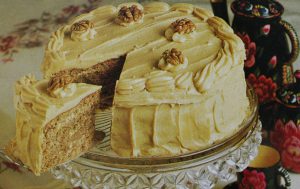 Ingredients:
500 mL (2 cups) ground walnuts
125 mL (1/2 cup) all purpose flour
5 mL (1 teaspoon) instant coffee
6 eggs, separated
250 mL (1 cup) sugar, divided
5 mL (1 teaspoon) grated lemon rind
5 mL (1 teaspoon) vanilla
– Grease only the bottoms of two 22.5 cm (9 inch) layer cake pans. Line the bottoms with wax paper and grease again.
– Mix nuts, flour and instant coffee together.
– In a deep bowl, beat egg whites until they form soft peaks. Gradually add 125 mL (1/2 cup) of sugar, beating until the egg whites are stiff but not dry.
– In a large bowl, beat egg yolks for 1 minute. Add the remaining 125 mL (1/2 cup) sugar gradually beating another 4 minutes until it is thick and light coloured.
– Beat in lemon rind and vanilla. Gently stir the nut mixture into the egg yolks.
– Stir one-quarter beaten egg white into the egg-nut mixture. Fold in remaining egg whites until just blended.
– Spoon into prepared pans. Bake in a 180 degree C (350 F) oven for 30 minutes or until a toothpick inserted in the center comes out dry.
– Cool in pans for 20 minutes; remove from pans, peel off the paper and place upright on cake racks.
– Spread Mocha Cream Frosting between the layers, over the sides and top of torte. Layers can be halved to make a 4 layer torte.
Mocha Cream Filling:
4 egg yolks
625 mL (2 1/2 cups) icing sugar
200 mL (3/4 cup) butter
50 mL (1/4 cup) strong coffee
5 mL (1 teaspoon) vanilla
– In the top of a double boiler, blend egg yolks with 200 mL (3/4 cup) of icing sugar. Cook over simmering water, stirring constantly until thickened. Remove from heat.
– Cream butter and add the remaining icing sugar, gradually beating until smooth and creamy.
– Blend in the cooled egg yolk-sugar mixture, coffee and vanilla. Beat until well combined.
Makes one 22.5 cm (9 inch) cake
Homemade Fresh Cheese
A staple in any Ukrainian meal is fresh, soft cheese. Make sure to try this recipe for yourself!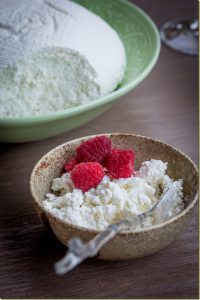 Serves: About 2 lbs (1 kg) fresh cheese.
Ingredients
Fresh Cheese
1 gallon of milk
1-2 cups buttermilk
Utensils:
Large Heavy Bottom Pot
Cheesecloth or Paper towels
Food thermometer
Sieve
Instructions
*Read complete post before the recipe to get a better understanding of how and why you do what you need to do.
Pour 1 gallon of milk into a large heavy bottom pot.
Heat to 100F, or until it's slightly hotter than warm. (Do not make it hot, or it will kill the buttermilk culture.) Remove from heat.
Shake the bottle with buttermilk and pour 1-2 cups into the warm milk. Stir for about 1-2 minutes.
Cover with lid and allow to sit at room temperature, undisturbed for 12-24 hours depending on how warm it is. If room temperature is below 70, place pot of warm milk in the oven with just the light on (NO heat).
Buttermilk is ready, when it's thick and you're able to 'cut' it with a spoon, that means when taking a spoonful of buttermilk, it doesn't run like milk, but holds it's shape. (When in doubt, leave it for full 24 hours.)
Cut the buttermilk into 1 inch squares with a long knife.
QUICK PICKLED MUSHROOMS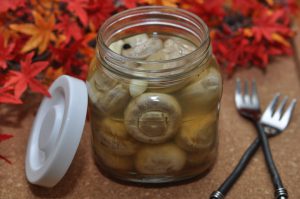 1 pound small button mushrooms
1 small onion, sliced
2/3 cup mild vinegar
½ cup water
5 peppercorns
1 bay leaf
1 teaspoon salt
1 teaspoon sugar, or more
1 tablespoon cooking oil

Clean and wash the mushrooms, leaving the stem attached to the cap. Cover with boiling salted water, and cook for 15 minutes. Drain and cool. Save the liquid for soup.

Arrange the mushrooms and onion slices in alternate layers in a sealer. Combine the vinegar with the remaining ingredients, except the cooking oil, and simmer for 10 minutes. Strain and cool. Pour over the mushrooms and top with the cooking oil. Cover and keep in the refrigerator for about 12 hours before using. For milder mushrooms, use equal parts of mild vinegar and water.
What are your favourite Ukrainian recipes? Share them with us on Facebook!